October is Meteor Month; skull & bones sugar lumps, black hole may be orbiting our sun, space rocks may be spying on the Earth, Sandford calls for change of name to Clarke Award, Venkman says dogs and cats are living together, reading SF may not make you stupid after all and lots more stuff of biblical proportions this week in Amazing News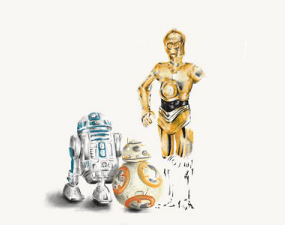 What other trilogy has brought back the original actors, playing the same parts, 40 years on?
Enjoy! And may the force be with you in the new year 2016.
...and finally, the cast of Star Wars VII. Unsurprisingly, Princess Leia is identified herein as Leia Solo.
The common definition of plot is that it's whatever happens in the story." Ahhh, but how are those things that happen put together? Nina explains how interwoven and parallel plotting can enhance a story.