News of speculative fiction book publications, magazines and more of interest to Spanish speaking fans.
Announcement of the release of a Spanish language science fiction anthology called Quasar 2.
Interviews with authors Dioni Arroyo and Javier Sáchez, who talk about their latest novels.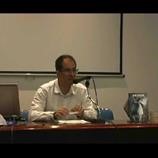 Links to TerBi videos, a call for short stories for an anthology on the theme of "Cachava y boina," and more!
Interview with David Calleja, author of "El cuento de Dione" and other news.
Announces the transfer of a collection of Spanish speculative fiction texts, some of them quite rare, to a university library and the publication of a collection of Russian speculative fiction in Spanish.
An interview with Dioni Arroyo, Spanish author of the greenpunk novel Fractura.